Many people think that girls who have long hair have all the styling fun. But that is simply not true. We have compiled a list of cute hairstyles for short hair so that you can look stylish and fashionable every day.
Usually, you do not have time every day to try out some new hairstyles so you just wrap your hair simply and wear the same hairstyle every day.
Many prefer to leave their hair open, pull it back in a classy yet messy bun or just tie a pony tail, we all have that one hairstyle that we love.
Short hair are very playful and absolutely worth experimenting with some cute hairstyles. You can absolutely create some stunning and cute hairstyle with short hair, whether it's for work, a casual meeting, or a party.
Short hair may be styled in a variety of ways, from stylish chignons at the nape of your neck and whimsical space buns to romantic beachy waves.
There are a plethora of incredibly cute hairstyles for short hair that can be done quickly and easily at home. To spice up your cut for every occasion, here are 20 adorable and simply just adorable hairstyles for short hair that busy moms or every other busy woman should try. There's no reason to be stuck in a rut with your hair!
Cute Hairstyles for Short Hair
Sometimes all we need is a simple hair accessory to change and spice up our everyday style. Scarves, ribbons, flowers, and even glitter surprisingly are all great ways to give our hair some color to add a unique yet stylish touch to it.
Women naturally go with a classical bob when they opt for short hair. They are wonderfully stylish, and they may be enhanced with good hairdo features and even pulled up into a lovely updo.
1. Simple Side Twists
These side twists are the most popularly made hairstyle that people make for short hair because it is the easiest and gives a very professional look.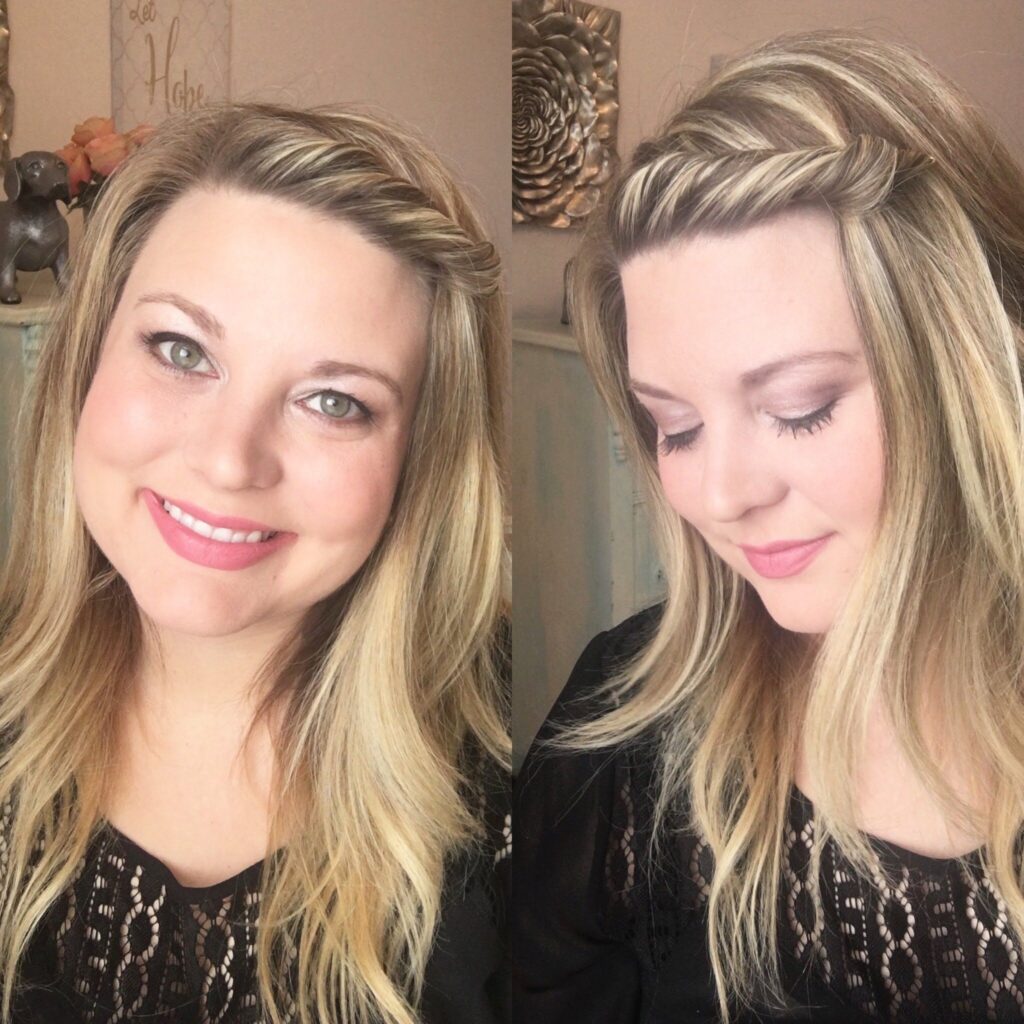 You can achieve this cute and easy hairstyle just by twisting the side strands and securing those twisted hair with two bobby pins. Make sure that you insert those bobby pins in the direction opposite to the direction of the twist.
2. Beautiful French Twist Specially Short Hair
With short hair, a French twist certainly seems like an impossible task. It isn't, however.
The easy steps that you can follow here is to bring your hair to one side, smooth it down, and pin it in place with a few bobby pins so that it gets placed neatly.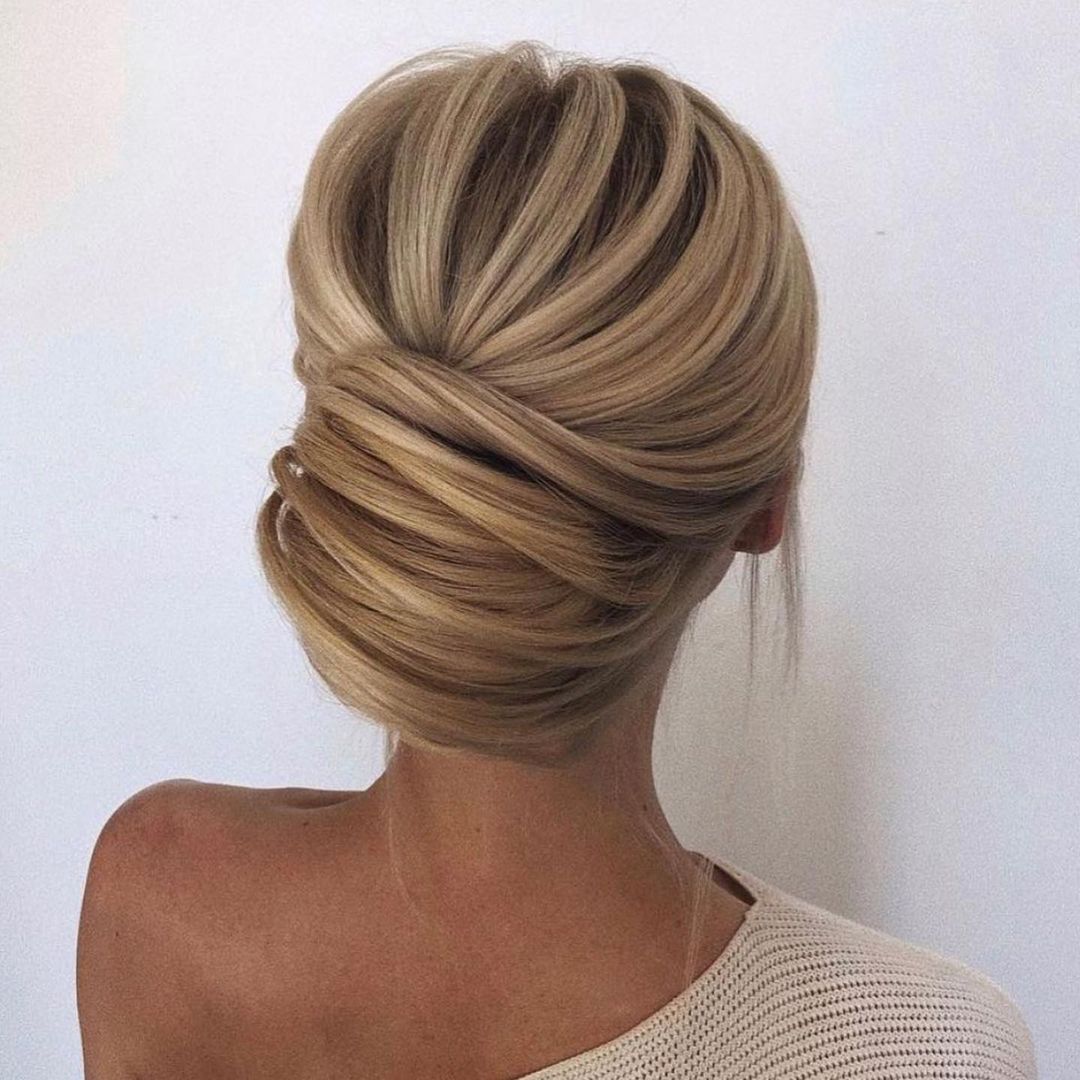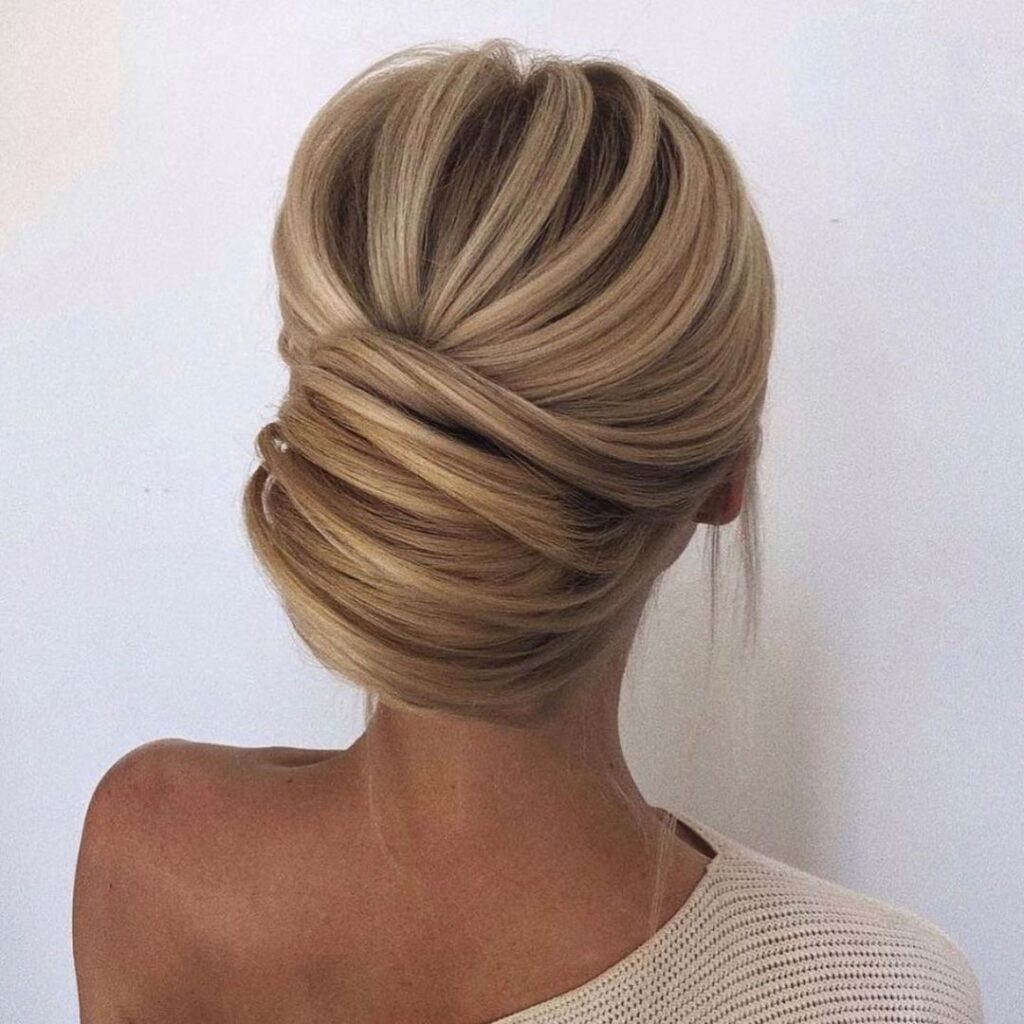 Then tease the remaining hair, bring it to the back, and secure it with a thin elastic – this simple hack will keep your short hair from falling apart when twisted.
Finally, twist the twist and fasten it with two bobby pins, one at the top and the other at the bottom.
3. Messy French Braids Short Hairstyle
This is a very cute hairstyle for short hair as this looks super cute when made in two messy looking short French braids.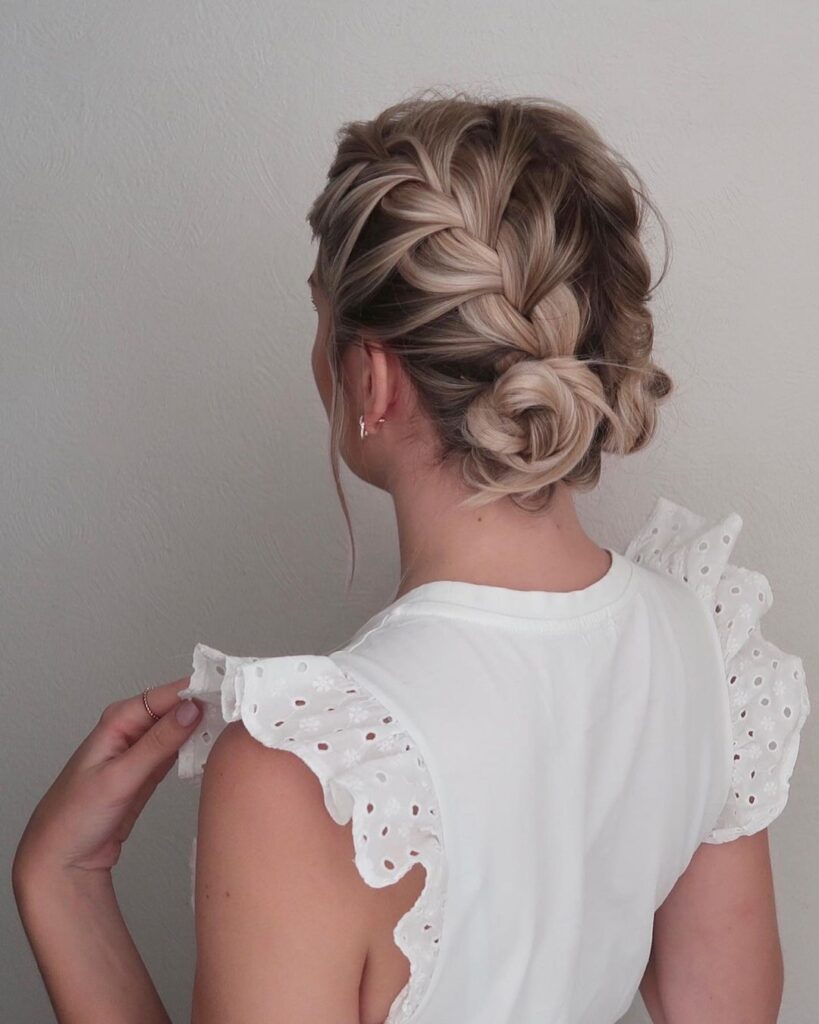 This gorgeous style keeps your hair away from your face and looks just cool.
4. Half-Up Twist Short Hairstyle
This cute hairstyle for short hair is made by taking two little side pieces, pulling them back with a small rubber band, and flip it over your ponytail over a few times to give it that stunning twisted look. This is all that's required for this basic hairdo.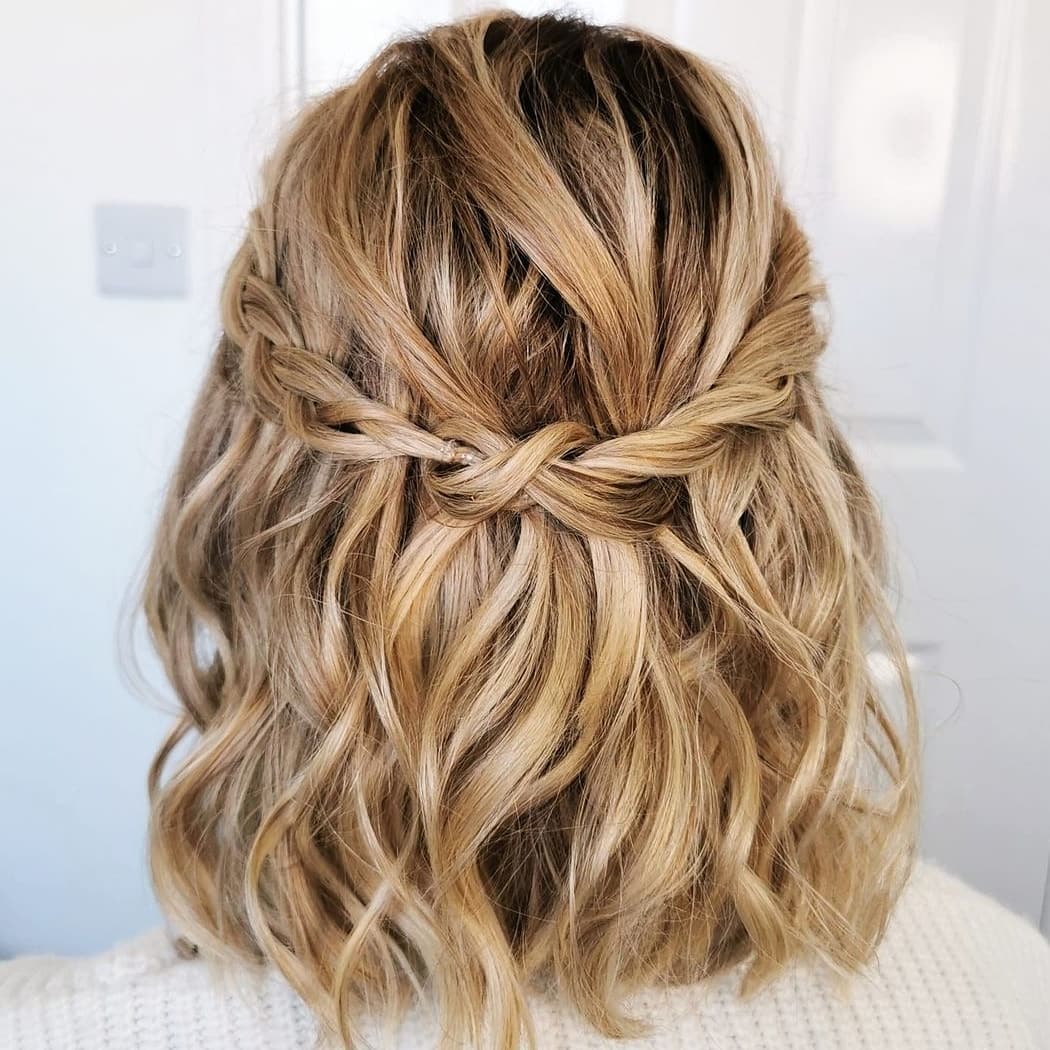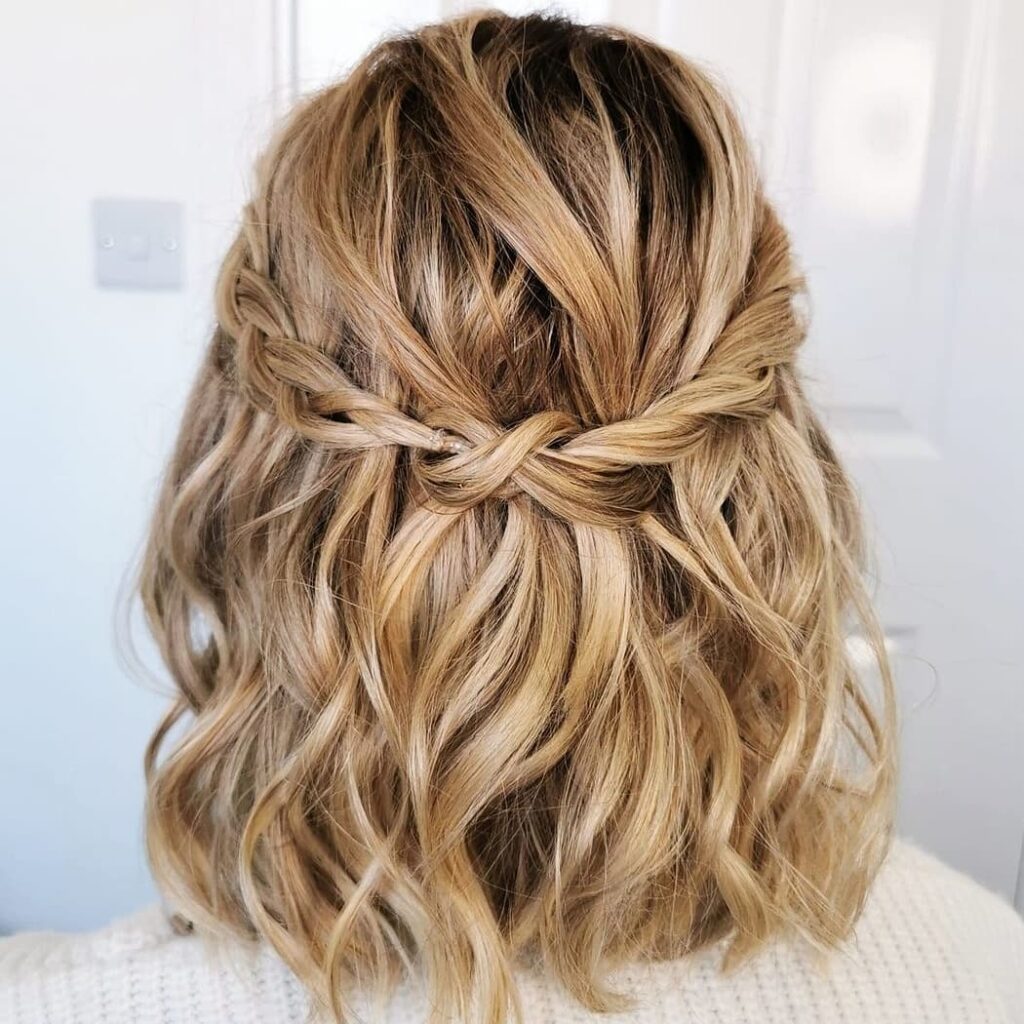 It's pretty simple, quick, and just adorable.
5. Half up Half down Bun with Tiny Braids
This cute hairstyle for short hair can easily be achieved by braiding two small braids and then bringing them at one point to tie them down. After that, make a stunning messy bun to give a much professional look and pull the ponytail with an elastic band and to give it a cleaner look and maintain the bun push a few bobby pins in the bun.
6. Fascinating Curled Hairstyle
The best thing to do to give your short hair a professional look is to curl your short hair. What you have to do to create stunning curls is just start by sectioning your short hair and create loose curls. Make sure that your hair doesn't look any shorter than they already are.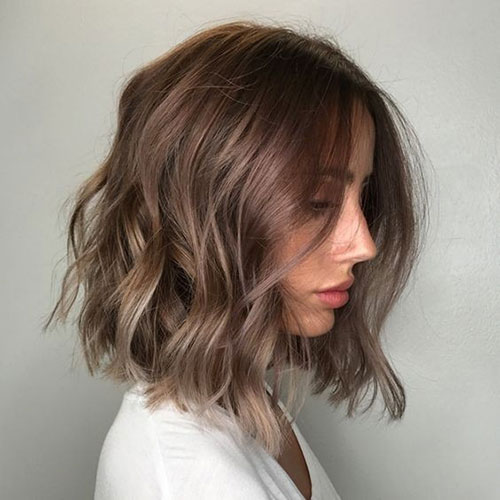 Below is a YouTube tutorial that will easily help you to pull off a chic yet trendy look with the help of an iron rod.
7. Sophisticated Bun Hairstyle Perfect for Short Hair
This cute hairstyle for short hair appears to be highly sophisticated and yet a little hard, but the secret is that it is completely doable at home. Take a few strands from your fingers from the front and one side of your head, twist them and pin them off the center. Cover the pins with the twisted strand of hair from the opposite side, fastening it in place as you proceed. To make a stunning bun for short hair to wear to a prom or night's party, twist the remaining tail and pin it below with bobby pins.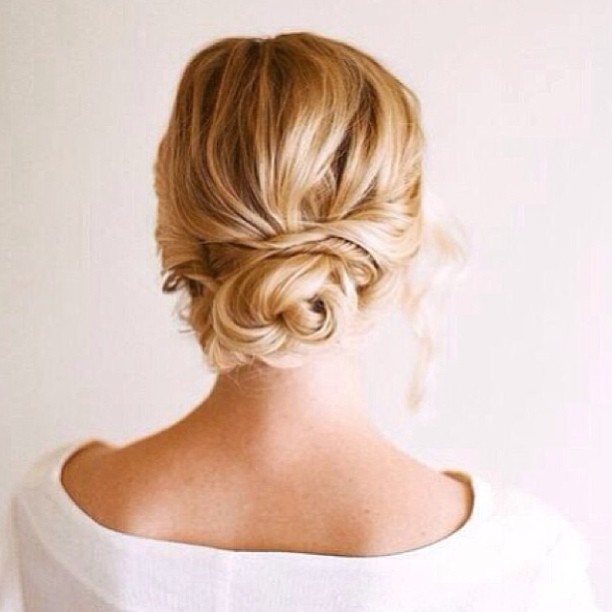 8. Headband Short Hairstyle
Another quick and easy way to style short hair is to throw on a cute headband and believe me, this cute hairstyle for short hair looks chic and stylish. The print or color can actually go with your daily outfit for an extra stylish touch. You can mix and match these beautiful colors.
9. Braided Back Space Buns Short Hairstyle
Buns can be worn in a variety of ways. In this half-up look, braids are used to draw the two little buns back, providing a touch of more complexity. The "space buns" are two small buns that are quite attractive.
Also, to achieve much perfection in how to achieve this hairstyle, follow this YouTube tutorial below to master it:
10. Chunky Fishtail Short Hairstyle
This chic yet stylish side fish braid may seem a little complicated to you. But if you know how to make a fish braid then this cute hairstyle for short hair is a piece of cake for you.
Curl your hair, preferably give loose curls and back comb your strands in your side and make a beautiful and messy fish tail and Voila! This will easily give you your desired look. Don't forget to spray your hair though. So that your hair stays in one place.
11. Side Bobby Pins Short Hairstyle
It is always best to add some hair accessories to your hairstyle. This way you can easily achieve a very cute look for short hair. This effortless short hairstyle idea is to utilize cute and adorable bobby pins as a stunning design.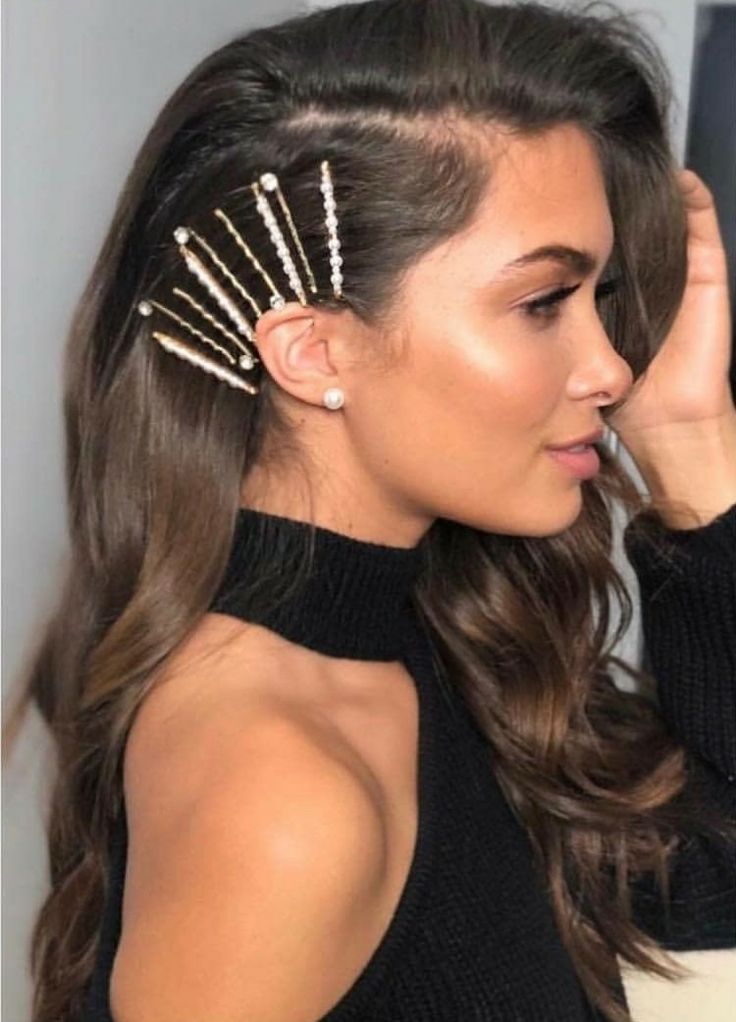 12. Short Hair Bun That Complements Curly Hair
To achieve this hairstyle, you specifically need to curl your hair before you make a bun. This helps you get a voluminous look. For this cute hairstyle for short hair, you would need some classy bobby pins to maintain this hairstyle and a hair spray of course.
It is primarily advised to pull your hair up to create a beautiful voluminous look on top. Pull the top part of your hair that you have sectioned into a ponytail and this will be the very basic step of this stunning hairstyle.
Try to conceal the loop with some strands with the help of your fingers and some cute yet stylish bobby pins to maintain them. And of course, you need to use a hair spray to control the frizz and stop that pesky little hair from coming out. If the occasion calls for it, add some hair jewelry to give it a classy touch.
13. 90's Half Pony
The '90s was an evergreen era and the styles be it fashion or hairstyles are finally making a comeback and inspiring a slew of new hairstyles and young artists, including this adorable half pony for short hair. Make a little triangle in the front and half-pony the horseshoe area, leaving the hair around your hairline out. To complete the look, back comb your ponytail to add a little extra volume to your hair.
14. French Braid Mohawk
This cute French braid Mohawk for short hair is chic yet a very cute hairstyle that can easily go with any of your outfits.
Begin with three portions in the front and bring them over the middle to your other hand. Then repeat the process on the opposite side. After you've done this twice, you'll have the beginning of a braid.
Before crossing the strands over the central one, keep crossing the parts and adding a little hair from the sides each time. And there. It is as simple as that.
15. Double Side Braids Short Hairstyle For Short Hair
To achieve this cute hairstyle for short hair, what you need to do beforehand is curl your hair. Two French braids on the side of the head give hair a sophisticated side-swept style. This is a stylish, sophisticated and very classy appearance for women with short hair.
16. Two Puffs Short Hairstyle
For girls with curly, shorter hair, two puffs are a terrific option. It's the same as having two pigtails, except they're higher up on the head, allowing their natural texture to take center stage. It's really adorable!
This cute hairstyle for short hair is specifically for those beauties who have curly hair. It's the same as having two pigtails, except they're higher up on the head, allowing their natural texture to take center stage. It is absolutely incredible!
How to Maintain Your Short Hair to Avoid Any Extra Damage
Get a trim every four weeks to keep your short hair looking great and fresh.
Wash your hair three times a week with your favorite shampoo and conditioner that addresses your particular hair problems. If you have dandruff and thin hair, for example, use a dandruff shampoo and a volume conditioner.
Before using heat styling tools on your hair, always remember to apply a heat protectant. This will guard your hair against any type of heat damage.
Use a round brush to comb your hair backwards and upwards to give volume to your short locks. If you have curly hair, use a wide-toothed brush or comb to achieve the same.
At least once a week, apply natural oil to your hair to maintain healthy hair.
The Final Verdict:
These cute hairstyles for short hair that are showed to you above are wonderful and are a great option for you to try for your everyday look. Even if you are a beginner or if you are an expert in trying these simple and easy styles, these cute hairstyles for short hair will get you inspired.
With practice, you will eventually get faster and much better and in no time, these hairstyles will be in your fingertips.
Have fun and play with your hair. Experiment daily!