David Laid, a 24-year-old Estonian-American bodybuilder, fitness model, and entrepreneur was born on January 29, 1998, in an undisclosed location in Estonia under the sign of Aquarius. He came to the limelight mainly due to the transformation videos he posted on his personal YouTube channel in 2013.
How He Got Motivated To Creating His Channel?
Interestingly, before he was a teenager, David was never interested in lifting weights but was always much more of a gamer, which was his initial motivation for creating channels on various content-sharing platforms. Back problems brought him to the gym. This, combined with rapid growth, made David realize the therapeutic value of exercise.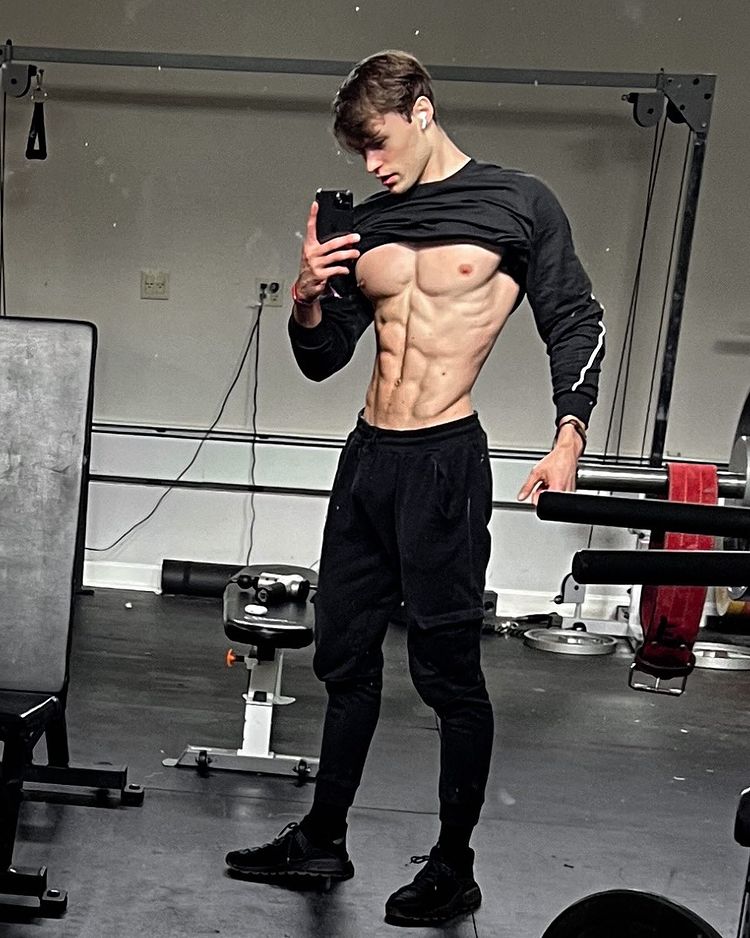 He realized he could make a career of it when he heard comments regarding his appearances in public, and he could advise others on how to do so.
David's Childhood
Laid is now one of the most well-known fresh faces in fitness, particularly among women and teenagers. David was raised in Estonia with his mom, dad, and two younger siblings.
Unfortunately, he never got to know his father, who tragically died when he tumbled off a cruise ship docked in one of Estonia's harbors. This loss devastated the Laid family, prompting David's mother to decide to relocate to the United States.
It was difficult for a single mother to raise three boys on her own, but young David quickly stepped up as the family's man. He was a promising ice hockey player and an outstanding student. But in his teens, he began to grow rapidly, which caused him to develop scoliosis, a condition characterized by spine curvature.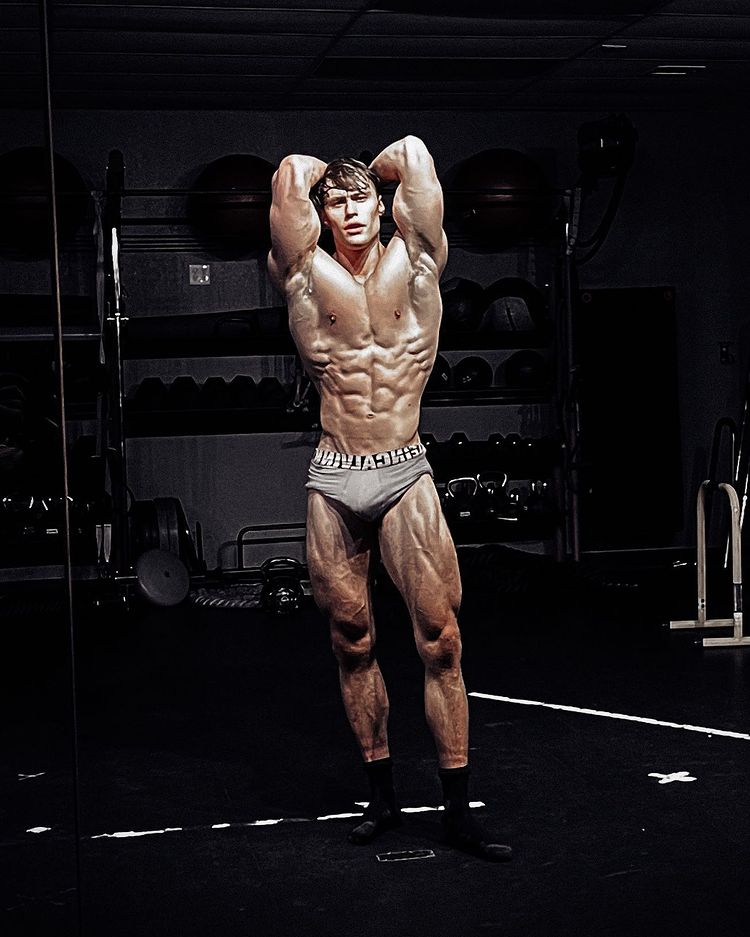 How He Started Losing His Weight From 90 Pounds?
He was bullied because he weighed only 90 pounds (41 kilograms) at 14. His doctor advised him to lift weights to strengthen his muscles and return his spine to normal. Initially hesitant, David soon came to appreciate the pain and swelling he felt after workouts, especially since he could see immediate results. He immediately decided to pursue a career in fitness and began uploading workout videos to his YouTube page.
David's Career Journey As A Youtube Influencer:
In December 2013, David's debut film, "David Laid 18 Month Transformation 14-15-Year-Old," was released on YouTube. When the video went viral on the internet, it obtained millions of subscribers and followers.
On YouTube, he currently has over 1 million subscribers. David's most popular YouTube videos include Training to Become an IFBB PRO, Chest Workout for Consistent Growth, New Favorite Chest Workout, Breaking PR's Steve Cook vs. David Laid, and others.
He has also created two well-known training plans for a great body: the Euphoria Pre-workout and the 9-week training plan. Furthermore, due to his increasing recognition and millions of followers on various social media platforms.
David has been chosen as the face of several sports, nutrition, and energy drink businesses, including gymshark and many more.
David quickly gained a slew of followers who commented and enjoyed every video he posted. His content included workout excerpts, collaborations with other fitness enthusiasts, and several Q&A sessions.
All of which expanded his popularity, and he was contacted by talent agencies, supplement manufacturers, and even gyms, in addition to fans. What began as a hobby and a way to help sort his spine became a potential source of millions of dollars.
David Laid's Net Worth: How Much Money Does He Have?
Have you ever thought about how wealthy David Laid is? According to several credible sources, he has a net worth of more than $125,000 as of mid-2019, which he has amassed by becoming a YouTube superstar and developing his brand.
His eBook sales also have enabled his luck. Looking at his YouTube videos, it's safe to assume that a portion of his revenue comes from ad placement. If he continues working hard and building his brand, there is no doubt that this figure is an underestimation or that the 'official' figure will rise significantly soon.
eBook
Aside from speeches, appearances, and lectures, David is the author of an eBook that teaches people how to transform their bodies in just nine weeks. Despite the book's success, there are no indications that David intends to write a sequel.
Youtube Videos
David uploaded what would become his most popular video, "David Laid 3 Year Natural Transformation 14-17" on August 14, 2015; as of August 2019, the video has over 30 million views. It follows the same template as his first appearance on the channel, demonstrating his gradual improvement from his first workout.
Websites
The video was featured on numerous prominent websites. In addition to the debates and discussions, it was sparked on forums such as Bodybuilding.com. Many questioned his physique, with frequent assertions that he used steroids or Photoshop to "tweak" the photos in the video.
Jeff Seid, the Hodge Twins, and Marc Fitt are his fitness idols. His workout routine has remained consistent since he began working out: he works out six days a week for approximately two hours.
He, unlike most gymgoers, dislikes eating, so he must find new ways to get the required number of calories. In terms of favorite exercises, David enjoys everything he does, but deadlifts and squats hold a special place in his routine.
David Laid's Personal Life: Does He Have A Girlfriend?
Laid is dating dancer and fitness enthusiast Julia Jackson; little is known about David's previous romantic relationships. Aside from the occasional social media update, we don't know much about his and Julia's relationship. Despite his well-known fitness individual and celebrity status, he avoids responding to personal questions. On multiple occasions, he politely reminded reporters and fans that he prefers to keep his love life private.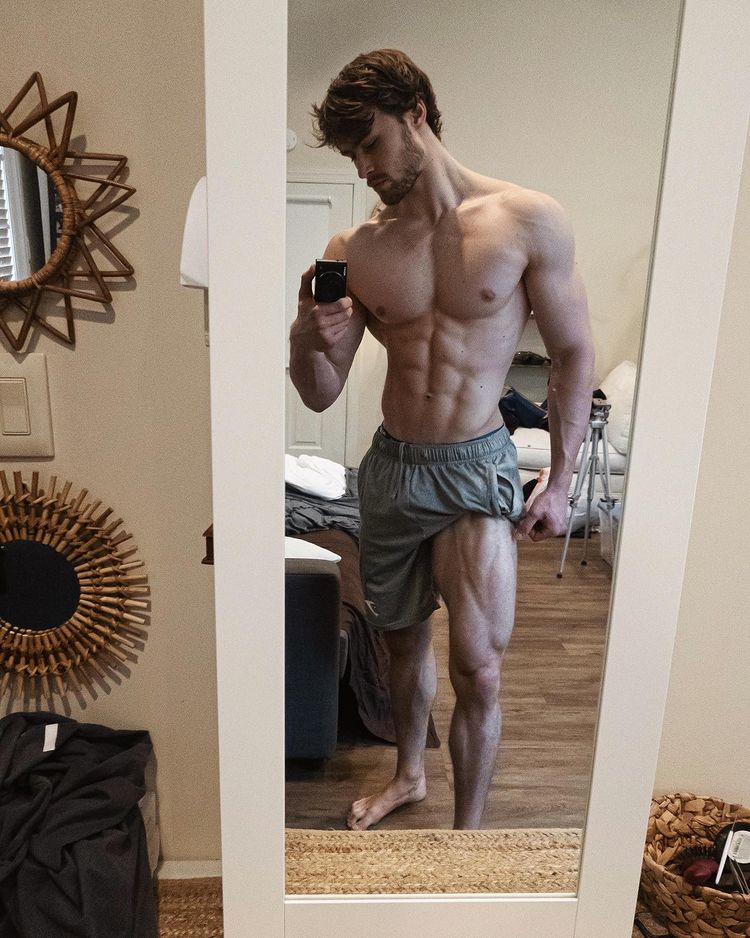 David Laid's Height
David Laid is 6ft 2ins (1.88m) tall and weighs around 187lbs (85kgs), but this number varies depending on whether he's trying to gain muscle or burn fat. Laid has maintained a slim build due to working out for over 7 years, unwilling to build muscle mass. According to the man, both appearance and health are important to him.
How old is David Laid?
David Laid's age is 24 years as of June 2022 since his birthday was January 29, 1998.
David's transformation
Students at David's school frequently made fun of his body. The coach and teammates of the school's hockey team teased him about his size, and his classmates dubbed him "chicken legs." Laid was 5'7″ tall and weighed 98 pounds at the time. Laid was 6'2″ tall and weighed 190 pounds when she was 17. He posted a few more videos before another, David Laid 3 Year Natural Transformation 14-17, went viral in August 2015.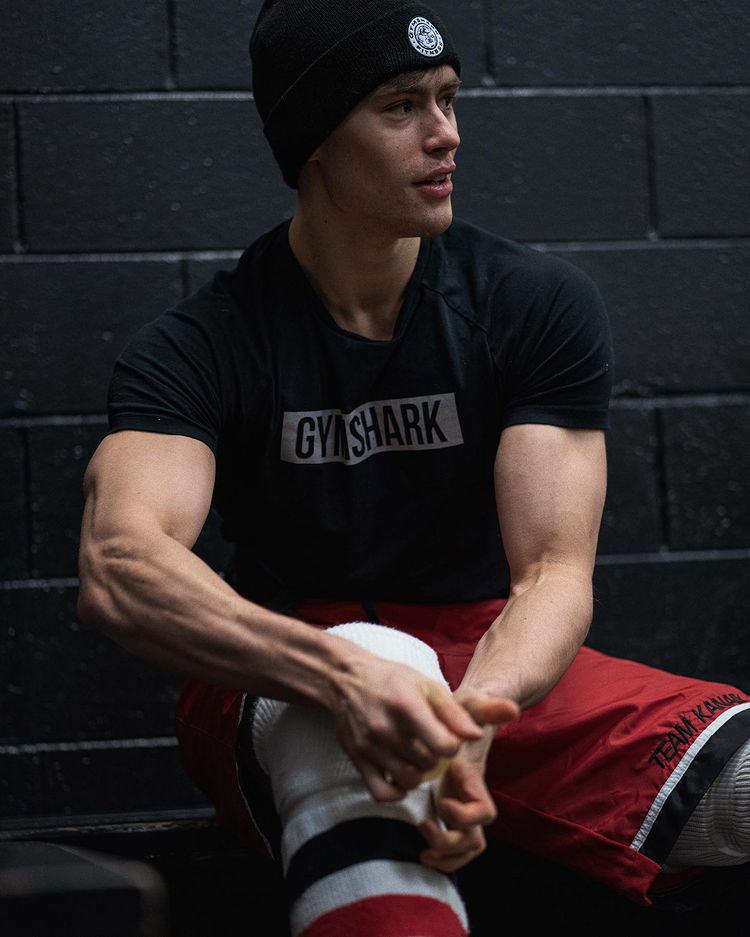 David Laid started his transition by watching online fitness and bodybuilding videos. He began lifting weights and documenting his progress on YouTube and Instagram, where he now has 1.28 million and 2.1 million followers, respectively.
David began by watching muscle-building videos on YouTube. He discovered various body transformation videos, which motivated him to boost his confidence and build the incredible physique for which he is now famous.
David's following on social media has grown dramatically since the start of his fitness career. On social media, he frequently posts videos of his body changing. As a result, he's become an inspiration to people worldwide.
This showed everyone that he was capable of changing his life while also gaining an incredible physique. David monitors his progress regularly, which encourages him to continue.
David's new goal is to inspire others to achieve their fitness goals. Many others in the online fitness community have been inspired by his remarkable transformation and ardent love of weightlifting.
The Estonian-American bodybuilder rose to prominence after documenting his incredible transformation from scrawny adolescent to ripped and shredded adult.
Is David's Workout Routine The Key To His Transformation?
Deadlifts, squats, and bench presses are among David's favorite exercises.
To get the most out of his training, he goes to the gym daily, usually six times per week. He trains for up to six hours daily, illustrating his unwavering dedication to achieving his goals. The exercises and routines he follows are the keys to his fitness.
Among his back exercises are:
4 sets of deadlifts
4 sets of 10-12 reps of lat pulldowns
3 sets of 6-8 reps of bent-over barbell rows
3 sets of 10-12 reps on the incline bench press
5 sets of 10-12 reps of a cable crossover
He includes the following chest and shoulder workouts:
4 sets of 10-12 reps of pec deck flyes
Tricep Pushdowns – 3 sets of 8-10 repetitions
Hammer Curls with Dumbbells – 4 sets of 10-12 reps
3 sets of 12-14 reps of seated cable rows
David Laid's leg workout looks like this:
Squat with a barbell – 5 sets of 8-10 reps
3 sets of 8-10 reps on the glute hamstring raise
3 sets of 8-10 reps of lunges
3 sets of 8-10 reps on the Romanian deadlift
Sumo deadlift-4 sets of 12-14 reps
David strengthens his core with the following routine:
3 sets of 14-16 reps of flat bench leg pull-in
3 sets of 14-16 reps of jackknife sit-ups
3 sets of 10-12 reps of hanging leg raise
4 sets of 10-12 reps of standing cable lift
What about David's eating habits?
Diet is a crucial component in maintaining and building muscles for a person.
David claims that his biggest weakness has always been a lack of motivation, and he has been reluctant to consume large amounts of food regularly.
Initially, this meant that his muscle-building efforts in the gym had come to a halt. As a result, David was forced to learn more about macronutrients, and he began to follow an IIFYM (if it fits your macros) diet, which enabled him to gain weight quickly by eating higher-calorie meals.
David's diet enabled him to eat whatever he pleased as long as he kept his calorie intake under control. He would change his calorie goals depending on whether he was losing, gaining, or maintaining weight.
A typical meal plan for David looks like this:
Chicken Sandwich
Vegetable Soup
Apple\sBiscuits\sTea
David Personality Traits
David learned to be self-motivated during his fitness journey. Many people have been inspired by his transformation from a scrawny child to a swole, monster-like man.
Like every other bodybuilder, David faced accusations that he did not naturally gain all of his muscle mass. He's been bombarded with questions about his "cycle" since he posted his first video (steroids can damage the human body if not taken in sporadic periods, called cycles).
David, who is always willing to defend himself, has denied ever touching anything illegal. People were obviously so taken aback by his transition that they doubted he could pull it off on his own.
Aretheyonsteroids.com, a popular website that set out to prove steroid use by famous athletes, tried to point out that he licked his lips twice during an interview about steroids; this is a known indicator of a person lying, according to them.
Laid, clearly amused by the rumors, showed up at a recent Arnold Classic expo wearing a TV shirt that read "Half Natty" (natty means natural in gym slang).
Many perceived this as an official admission to steroid use, but David was most likely joking around. In addition to his own remarks, his mother has stated her strong opposition to her son using steroids.
Because of the ever-expanding reach of social media on global audiences, it is in most celebrities' best interests to keep their fans updated on their activities. In order to sustain and potentially increase their ratings and profit.
David's Popularity:
David is no stranger to the trend of sustaining his fans up to date, with his commitment to updating his public profiles and engaging with his fans at an all-time high. His Instagram account has 1.2 million followers, and his official Facebook page has 4,000 fans. David's primary source of income, however, is his YouTube channel, which has 900,000 subscribers and 125 million views to date.