Hayley Hasselhoff is an actress and plus-size model in the United States. She is widely known by her father, David Hasselhoff, a famous American actor and producer.
Hayley earned tremendous recognition for her excellent work in the ABC Family, where she played the role of Amber. However, a star also worked in the A&E reality series in 2010.
How did Hayley Hasselhoff pursue her journey of modeling? Is she dating anyone? What are the controversies she is involved in? & where was Hayley Hasselhoff raised? Let's find out.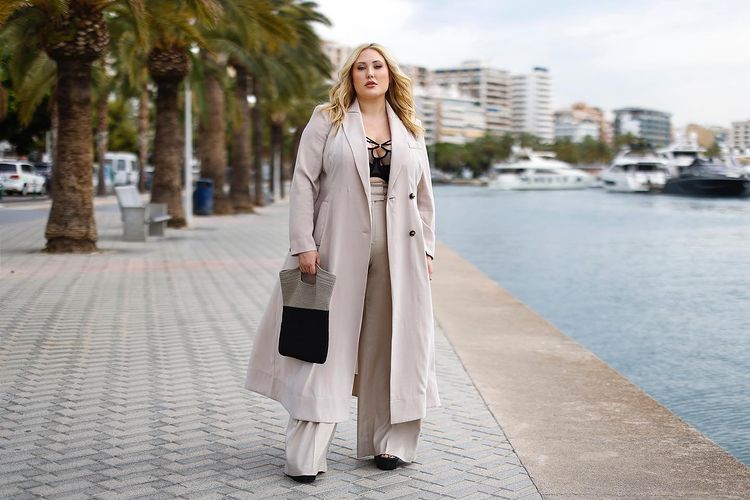 Where Was Hayley Hasselhoff Raised?
Hayley was born on August 26, 1992, in Los Angeles. She opened her eyes to a well-established artistic family; her father, David Hasselhoff, is a famous actor, while her mother, Pamela Bach, is also an actress.
She has one sister, Taylor, who is also pursuing her in the media industry.
However, there is no piece of information about her educational background.
Who Did Hayley Hasselhoff Embark On Her Career?
Hasselhoff pursued her career in acting and modeling. In 1999, she started her acting career with her father.
She appeared in her father's series Baywatch in 1999, which is considered her initial career.
After that, she debuted in another reality television series, The Hasselhoff's, and earned massive recognition across the country.
In 2010 Hayley Hasselhoff played the role of Amber in Huge for ten episodes.
Moreover, she pursued her career in modeling; since 2007, she has been modeling as a plus-size model.
At 14, she was considered a "plus-size model" and signed many contracts with Wilhelmina Models.
In 2014, Hasselhoff signed with Ford Models and had walked on runways in various shows like the 2014 British Plus Size Fashion Week, where she had modeled for Torrid.
In addition, Hasselhoff has presented as an ambassador for Pulp Fashion Week in Paris.
In 2019, she embarked on competing in The X Factor: Celebrity, where Hayley was eliminated at the audition stage.
Last year, in 2021, Hasselhoff was recognized as the first plus-size model to pose for the cover of the German edition of Playboy.
To Whom Is Hayley Hasselhoff Dating?
Some reports claim that a celebrity is being caught dating a Photographer Dominic Charles Farrell. It has been more than two years that the couple has been dating.
In 2018, Hayley and Dominic were seen together, which caught the public's eyes, but they have not publicly disclosed their relationship; it might be possible to keep their lives private.
However, she has never shared her photos with Dominic on any social media account. But Dominic can be seen to support Hayley in the news of her Playboy Germany cover.
Previously, Hayley Hasselhoff dated Geordie Shore and Kyle Christie but broke up their relationship due to unmet differences and mentalities.
What Is Hayley Hasselhoff's Body Measurement?
Hayley's weight is 75kg, while her height is 5.7 ft. she is 29 years old and holds American nationality. Her zodiac sign is Virgo. Hasselhoff looks stunning in her blond hair color with blue eyes.
Who Are Hayley Hasselhoff's Parents?
David Hasselhoff – Father
The Father of Hayley is David Hasselhof, an American actor, singer, producer, and television personality. Moreover, he is considered a leading entrepreneur in the United States.
David is the most-watched man on TV, and he has set the Guinness World Record.
In 1975, he appeared for the first time in The Young and The Restless, played the role of Dr. Snapper Foster, and earned high recognition across the country.
Moreover, a leading celebrity appeared in Knight Rider, playing the influential role of Michael Knight in 1982.
Pursuing his production career, David produced Baywatch for ten years, from the 1990s until 2001.
David earned a considerable reputation and recognition for influential performance worldwide in his entire career.
Pamela Bach-Hasselhoff – Mother
Pamela Bach-Hasselhoff is a well-known American actress. She is considered a famous and precious stone in the media industry and earned massive recognition worldwide.
Like David, her ex-husband, Pamela has earned massive attention in Europe.
She is awarded the Bravo Otto award at a young age, which is the German teens' favorite actresses award.
Pamela was honored with an award by the German teen magazine Bravo.
However, She has also worked in the long-running series Baywatch, produced by David Hasselhoff.
Pamela's other notable series, Sirens, also gave her vast recognition, and she played the role of the psychologist in the series.
Additionally, in 2011, she participated in Celebrity Big Brother, a UK reality TV show.
How Did Her Parents Meet Each other?
Pamela Bach met David Hasselhoff on the set of the Knight Rider for the first time in 1985.
Since then, they started dating each other, and after four years, they publicly announced to get married.
In 1989, David Hasselhoff walked down an aisle with Pamela Bach.
The couple was blessed with two daughters: Taylor Ann Hasselhoff, who attended the University of Arizona and pursued her career in acting and was cast for the season of Rich Kids of Beverly Hills, and Hayley Hasselhoff, who is a famous actress and plus-size model.
However, after 15 years of marriage, Hasselhoff announced to divorce Pamela and finalized the divorce in August 2006.
The reason for their divorce was their unmet differences and mentalities.
After a divorce, Bach was given custody of one daughter while David Hasselhoff had possession of the other as per the court ruling.
What Is Hayley Hasselhoff's Net Worth?
It is estimated that Hayley Hasselhodd has an estimated net worth of around US Dollar 2 million, which she acquired from her modeling and acting. On the other hand, her father, David Hasselhoff, has a net worth of around USD 10 million.
David earned massive recognition and wealth from his career, and he is always paid as per his demand.
However, her mother, Pamela Bach Hasselhoff, has an estimated net worth of around USD 10 million, acquired from her leading career.