At least once in our lifetime, we have all cried over our hair. We have all experienced it in one way or another.
Maybe a new stylist chopped off a little bit more hair than we were expecting. Or perhaps the frequent bleaching of our hair causes mass breakage.
Or some unfortunate incidence may affect hair loss. Now, the important question arises, how long does it take for hair to grow fast? Read on to find some detailed information and tips to increase your hair growth.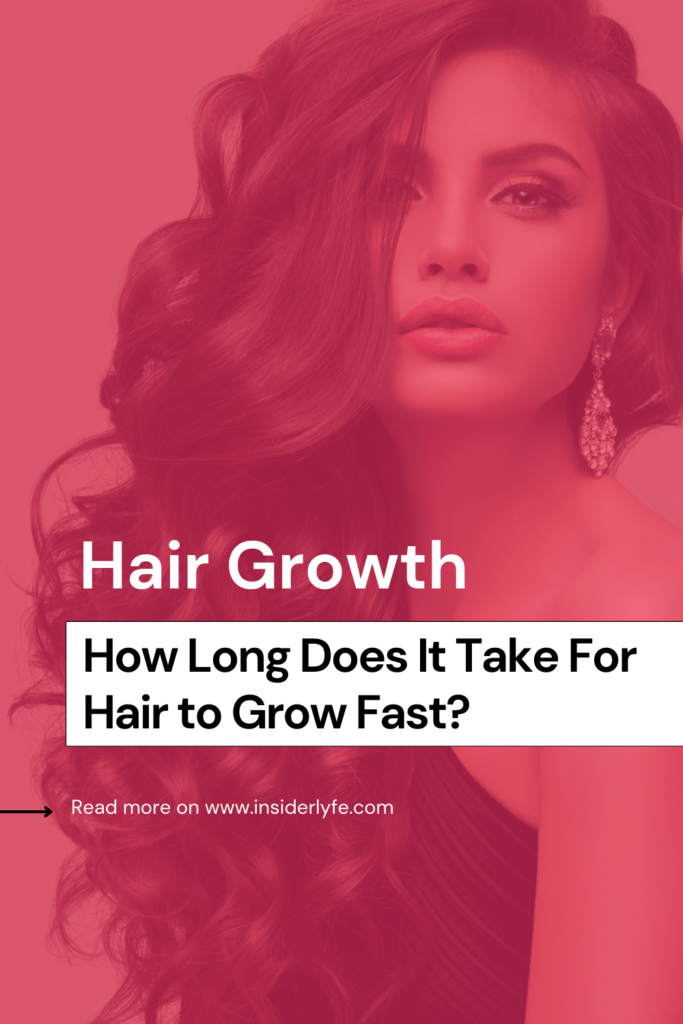 How Fast Does Hair Grow?
It's difficult to say exactly how fast your hair grows — everyone is unique! According to some research, hair growth occurs on average at a rate of between 0.5cm – 1.7cm per month.
This is equal to around 0.2 to 0.7 inches. According to this measure, some people's hair tends to grow three times faster than others.
All the hairs on our body grow out of a follicle. We have about 5 million follicles all over our bodies.
Around 100,000 of them are on your scalp. The rest are on our faces and body. At the bottom of the follicle, there is the hair root.
It consists of living cells that grow to make the hair shaft. As the hair shaft grows, it reaches an oil gland and ultimately pokes out through the skin.
The hair is dead at this point, so it does not hurt to get a haircut, but it can hurt a bit to pull out a hair by the root.
Three Phases of Hair Growth:
As we mentioned above, all hair follows a regular growth cycle. While it may seem like all your hair is growing simultaneously, some hair grows while others rest. There are three phases of hair growth:
Anagen – the growth phase (2-7 years)
Catagen – the transition phase (4-6 weeks)
Telogen – the resting phase (2-3 months)
The anagen stage is active hair growth. The catagen phase is a transitional stage. And the telogen stage is the resting phase.
When you usually lose up to 100 hairs per day, about 8% of your hair are in the telogen phase at any time.
The length of hair growth phases differs by body area. Scalp hair remains in the anagen phase for anywhere from 2 to 6 years.
It increases at a rate of around 6 inches per year. It spends 2 to 3 weeks in the catagen phase and about 100 days in the telogen phase.
Other kinds of body hair, such as eyelashes, eyebrows and leg hair, have a much smaller anagen phase, which is about 30 to 45 days.
This is why they are smaller than scalp hairs. On the other hand, they have a much higher telogen phase, which is why we don't shed as many of them.
After the resting phase, the hair eventually falls, and the process is complete. The idea with hair growth is to increase the growth phase; however, hormonal fluctuations, health problems, and genetics can all upset the hair-growth cycle.
Note: The average scalp has 90-95 percent of the hair follicles in the anagen phase. This means about 5-10 percent are in the telogen phase, which accounts for the 100-150 hairs that fall out every day.
Factors That Affect Hair Growth
Several factors can affect hair growth, some of which we can control and others we can't. Everyone's hair is different, and many factors can affect how quickly it grows.
These include:
Sex: Male hair grows quicker than female hair.
Genetics: A person's genes will show how quickly their hair will grow.
Age: Hair grows fastest between the ages of 15 and 30 before slowing down. Some follicles stop working altogether as people get older. This is why some people get thinner hair or go bald.
Nutrition: Healthy nutrition is essential for the growth and maintenance of healthy hair.
medications
hormonal changes
trauma that damages follicles
stress
other diseases or conditions
Note: It's also necessary to note that you should schedule an appointment with your doctor if you encounter unexplained and severe hair loss, as certain illnesses and health conditions can cause hair loss.
Telogen effluvium
Telogen effluvium happens when stress helps the hair roots to enter the telogen stage of the hair cycle too early. It can mean that as many as 70% of scalp hairs fall out within about two months.
People experiencing telogen effluvium usually find that their hair comes out in handfuls. It is usually most obvious on the scalp but can affect any part of the body.
Common causes of telogen effluvium include:
high fever
childbirth
severe illness
severe infection
not eating enough protein
surgery
the overactive or underactive thyroid gland
Several medications can also cause telogen effluvium. These include:
antidepressants
beta-blockers
retinoids
calcium channel blockers
nonsteroidal anti-inflammatory drugs such as ibuprofen
Telogen effluvium will normally clear up on its own once a person has tried the treatment for the cause.
According to the American Osteopathic College of Dermatology, the amount of shedding tends to decrease over around 6–8 months.
Factors that slow hair growth
Factors that can slow the rate of hair growth include:
anorexia or bulimia (eating disorders)
crash diets
stress
vitamin deficiencies
smoking
Scalp Influence Hair Growth
You might not believe it, but your scalp plays a significant role in hair growth, but it takes time to show on a daily basis.
Sharp brushes and powerful products are often the culprits. Considering all that scalps can go through, it's even more critical that you treat yours with a bit of TLC.
In other words, keeping your scalp healthy is all about taking little steps — like using a filter to remove chlorine from your shower, a sulphate-free shampoo, or making sure to wash your hair thoroughly.
Using heated tools too frequently or too near the scalp can weaken hair at the root and stop it from growing, so try to use them as minimum as you can.
You are forced to expose your scalp to harsh elements sometimes, but the good thing is, there are some steps you can take to help shield yours:
Condition your hair every time you shampoo
Damp hair is super fragile, so use a wet brush on it to avoid damage
Use silk pillowcases instead of cotton
Prevent breakage by using a light hair towel to help hair dry faster
Use masks and treatments
Tips for Quickening Hair Growth
As we discussed above, you can't do all that much to make your hair grow faster than it does naturally.
However, it doesn't harm to look after your hair, skin and general health to increase the chances of marginally faster hair growth and more minor damage, which leads to more length on your hair even if the growth isn't any faster.
Eat a healthy diet
Poor nutrition can start to slow in hair growth and generally less healthy hair that might end up breaking more often than healthier hair would.
 If you eat a balanced diet, you should get enough nutrients that your hair needs to grow strong and healthy. However, if you want to give your hair a nutrient boost, add more nuts, seeds, oils, beans and whole grains to your diet.
Foods help hair grow faster.
Are you trying to grow your hair longer for a special occasion? The answer just might be your diet.
Hair craves nutrition, so a balanced diet filled with many nutrients will keep it healthy and happy.
If you want longer hair, stock up on any (or all) of the following powerful foods:
Eggs
Salmon
Berries
Nuts
Beans
Whole grains
Avocados
Sweet potatoes
Olive oil
Fish
Foods rich in protein, biotin (vitamin H) and omega-3
Take supplements
If you are concerned that your diet might lack some areas or want to be sure you're getting all the nutrients you need for healthy hair growth, you should consider taking supplements.
Hair omega supplements are crucial for hair growth, providing proteins and fats to hair follicles and promoting a healthy scalp.
Vitamins and minerals such as biotin, vitamin B, vitamin A, Biotin C, E, Zinc, Copper, and Selenium to nourish hair roots and support hair growth for both women & men, healthy hair that's less prone to breakage.
 Rather than buying each separately, you can buy supplements such as SugarBearHair Hair Vitamins, which contain a range of nutrients for hair health.
Use protein
Protein helps your hair grow and protects it from chemical and environmental damage.
If you style or apply heat to your hair often, using a protein treatment can save your hair. You can purchase these online or use coconut oil at home.
Coconut oil helps reduce protein loss both before and after washing hair.
Too much protein can affect your kidneys. It may also cause your hair to become brittle, although this is rare.
It's best to get protein from your diet and not supplements. You can get protein from nuts, yogurt, vegetables, and other foods.
Take keratin supplements
There are not many studies on the effects of protein, keratin, and vitamins on hair health. One study looked at a product that had 500 milligrams of keratin and other vitamins and minerals. The group that took the supplement showed:
12.5 per cent reduction in hair loss
5.9 per cent improved in hair strength
improved hair brightness and lustre
Maintain a proper hair care routine
You'll find plenty of products on the market designed to nourish your hair and help prevent split ends and breakage.
A quality conditioner, such as SheaMoisture Hair Conditioner, is a decent place to start. We would also suggest using a hair mask once every two to four weeks. You would love Il Salone Milano Hair Mask.
Apply essential oils
Put a few drops into your shampoo or dilute it with jojoba oil. One research showed that pumpkin seed increases hair count for men with hair damage by 40 percent.
Avoid applying essential oils directly to your skin. You can dilute the oil with a few drops of essential oil per ounce of carrier oil.
Two other oils that may help include rosemary and peppermint oil. Results suggest that these oils may benefit hair growth.
You can also mix these essential oils with other carrier oils that prevent hair damage, such as:
mineral
coconut
castor
sunflower
Use Topical Ointments
Topical ointments are usually for people experiencing hair loss. They may improve your hair grow. Researches show that these products are useful in treating alopecia, or hair loss, and promoting hair growth:
Propecia
topical melatonin reduces hair loss and increases hair density
topical minoxidil 5 per cent slows hair loss
ketoconazole shampoo
Avoid heat styling where possible.
Heat damage is actual. Hair that's often straightened using flat irons, curled with a curling wand or blow-dried is more inclined to damaged ends and breakage than hair that's never or only occasionally heat styled.
 We know it's not always possible to avoid heat styling altogether but avoid it as much as possible if you want your hair to grow faster.
Caffeinate your Follicles
Studies are still new on the effects of caffeine on hair growth, but research found that caffeine may have growth-promoting effects on hair. Using hair products with caffeine as an ingredient may help.
Trim your hair regularly
Sometimes it can seem as though your hair growth has declined to a stop, but it usually just means that your hair is breaking off at a rate roughly equal to the speed at which it's growing.
It might seem counterintuitive to cut your hair when you want it to grow longer, but regular trims help keep the ends of your hair in good condition, preventing split ends and breakage, which can lead your hair to stop gaining length.
So, grab those hair scissors and give your hair a trim, or go to a hairdresser who you can trust not to take too much off. You only need to trim around an eighth of an inch off the end once every 10 to 12 weeks to stop split ends before they become an issue and to halt breakage in its tracks.
The Bottom Line
Everyone's hair increases at different speeds. Many factors — including sex, genetics, and age — can influence the rate of hair growth.
Hair grows out of follicles, which are small pockets inside the skin. Each strand contains a hair root, which is made of protein cells.
The blood vessels feed the roots with oxygen and nutrients, they multiply and grow into the hair.
How long does it take for hair to grow depends upon different factors. The best step you can take is to prevent hair loss and to thin due to poor nutrition.
There is little evidence to suggest that specialist shampoo or supplements can speed the rate of hair growth. Instead, eating a balanced diet and stay hydrated, nutritious diet that includes plenty of protein is essential for healthy hair.
Check-in with your doctor if you feel that you are experiencing significant hair loss.