In the past few years, fashion industry dynamics changed very quickly. Earlier skeleton figure was the only ticket to catwalks and modeling but now plus-sized models are being promoted too.
Beauty standards have changed from only slim to naturally beautiful.
All such changes have however heated the arguments related to unnatural beauty concepts, and the unhealthy lifestyle required to maintain the super skinny figure. Still, mega fashion brands and designers are obsessed with skinny models and they often claim that it's the PUBLIC DEMAND.
So in 2021, the spark of a thin waist, prominent beautiful bones, sunken cheeks, and svelte legs is still alive. This year all the mega fashion campaigns will surely revolve around super skinny models and slim models. So here is a small list of top skinny models you should follow on the internet.
Nyakim Gatwech who is also known as Queen of Dark is a famous American model. She was born in Ethiopia and was asked to bleach her body to look less dark. She never considered bullying words of people as important and continued her journey in the fashion industry.
Her skin is not only dark, it has a natural shine and a very fine look. With uniquely dark skin she also has a fit and slim body. She was seen in several Sudanese fashion campaigns. This year she will be firing up the stages of modeling events again.
Kaia Jordan is a 19-year-old skinny model who got popular in 2018 when she gave her debut in Fashion Week.
She is the daughter of 90`s supermodel Cindy Crawford. Her moves at the ramp are admired a lot and she is also known for having a fantastic giraffe neck and super thin nose line. Kaia's long legs and innocent-looking face are also a reason for her success in the modeling industry.
Cindy Mello is a Brazilian model who got fame from the Victoria`s Secret e-commerce catalog. She was expected to be walking in the fashion show of Victoria's Secret but due to miscellaneous reasons, she was not a part of the fashion show. But this year, it is again expected from Cindy Mello to walk over the ramp. Her boyfriend Ryan Frederick is also a model. She is now signed by Ford Models New York, previously is Cindy Mellow has also worked for actress Pamela Anderson in a clothing campaign for Missguided.
Burcu Bircik
ff Burcu Bircik is a 31-year-old actress and model from Turkey. At the age of 17, she also won Miss Mediterranean Beauty Competition and has appeared in several films as well. From the super slim model category, she is preferred by most of the popular brands.
Now she is up for international fashion campaigns and news is roaming that she is about to join a popular international modeling agency to show off her skills for brands like Gucci, Prada, and LV.
Fahriye Evcen Ozçivit
Fahriye Evcen is a German-Turkish actress and model married to a Turkish star Burak Ozçivit. She also made it to "World`s 30 Most Beautiful Women" and won the likes of Hillary Clinton, Emma Watson, Angelina Jolie, Gigi Hadid, and Adrina Lima.
Even after being a mother to a son, Fahriye maintain a super slim figure and is now back to modeling. She is also popular for her super hit Turkish movies and dramas. This time she is striking the stages of Italy and New York with her beauty. Fahriye`s natural and big smile is also the talk of the town as she seems very glimmering when she smiles.
Katya got fame through her modeling pictures posted on Instagram. She is not just a super skinny model but has a perfect Disney princess body shape as well. Her waist is so thin that from ribs to booty it creates a very ideal shape.
She is also considered a perfect beauty combo of hourglass body, Disney like facial features, slightly tan skin tone, pouty lips and giraffe neck.
Alice Deren was born in Moscow, has blond hair and green hypnotizing eyes. She started her career on social media mainly Instagram and quickly got the attention of bog brands. She appeared in advertisements of some brands, later joined Creative Agency Love Bali Starz.
Now she works like a top Bali model from the super skinny model category. Her waist is 22, and her portfolio shows she loves to meditate, meet local people and roam around in the jungles of Bali. Her natural wheatish skin tone add grace to her personality.
Yuliya Korolevaa is a new Instagram sensation who has started her modeling career with Bitch Clothes brand.
She is not only a super slim model but also has a very very attractive body. Her assets are prompting and Instagram followers love her booty as well. Besides modeling photos on Instagram, she also posts her dancing videos which are equally popular among the masses. Her legs, arms, and even feet have tattoos.
Anna Davydova is a flex artist, a player, and founder of a Flex Studio. Her modeling photos have a unique WoW factor because of her flexible body.
She is super skinny often post her flex moves videos on Instagram. She is getting popular day by day and it is expected to see her in limelights in 2021 for her modeling. Her Dubai desert photos, workout videos, and flex poses have already given a tough competition in the town.
She is a Romanian beauty having 23-inches of the waist, blue-colored eyes, and a very prominent torso bone. She was criticized for only being skinny but not beautiful in the photos of her back. But still, many people love her, her fan following is huge and she had signed some popular brands for their upcoming campaigns.
Olga Sherer
Ogla Sherer is often known for spreading magic through her red hairs and blue-green eyes. Her 23.6-inch waist and sophisticated facial featured are considered charming factors on runways. She is also popular for giving the best cover pages for Vogue Italy, China, Russia, and France.
Kim Noorda
Kim Norda is a Dutch model who got limelight from presenting the world`s most popular brands like Channel, Prada, Miu Miu, etc. She also appeared on cover pages Harper's Bazaar UK, Harper's Bazaar Spain, Marie Claire Italia, Vogue Russia, and Vogue Mexico. With a waist of 62cm, she is also loved for her deep and sexy eyes. Her lip cuts are often taken as a sweet kiss of glamour.
Jenny Mosienko
Jenny Hanna Jenny Hanna AKA Evgeniya Mosienko has a body known to be perfect for bikini and swimsuit modeling. Her journey started from social media and now she is one of the most popular fitness icons around the world. She belongs from Ukraine and often talks about a healthy diet, weight lifting, fitness training to maintain body shape. She highly discourages unhealthy means like starving and surgeries to look super slim. The highlighting factor of her body is that she doesn't look too skinny model in most of her photos her body manages to deliver a wow, soft, and natural appearance in most of her photoshoots.
Mariia Derevianko
Mariia can be seen all over the internet. Her Instagram photos and her modeling portfolio pictures are a love of the young generation. She had been a part of several fashion campaigns from popular brands. From the super skinny models of the 2021 list, Mariia is not only known for her waist size (which is 23), her naturally beautiful lips and a mole beneath are also a love of the town.
Polina Malinovskaya
Polina is a perfect combo of beauty and humor. She is a model and a comedian, her facial features resemble Disney princesses. With a firm and slim waist, she also has green eyes, a long neck, and a spicy booty.
Her career started on Instagram. She is a Belorussian, now settled in Italy and working with Milan Modeling agencies. She has a 2.5M fan following and is known for responding to 35,000 questions on Ask.FM. Her active social media responses are admired by her fans and that`s the main reason for engagement on her all social media profiles.
Daily thousands of fans talk about her in a single post, because of her hype in the industry and increasing fan following she is now a center of attraction for big brands in Milan.
Colette Pechekhonova
She is a Russian model who started her career in 1999 from Fendi Show and walked over the ramp of 40 shows of that season. She also appeared in cover pages of I-D, Vogue, and Velvet magazines. She is also a ballet performer and her body fully justifies the soft, flowy moves of ballet. Even in her photoshoot poses and catwalks her suave moves and gestures are considered as a startling beauty sign. Her super skinny figure is obviously like a cherry on the top of the cake.
Ksenia Kahnovich
With a skinny body, Ksenia Kahnovich also has a cute facial appearance and a spark in her eyes. She started her career in 2004 as a top skinny model from Russia when she appeared in the reality show "You are a Supermodel." She refused first prize at that show to join IMG models. Since then, she was continuously seen in fashion shows of top brands till 2017. Now she is back with a striking appearance and fans are appreciating her.
Alyda Grace
She is currently working with Saint Laurent and appeared in Vogue magazine as well. Alyda Grace's personality seems to be fierce at ramps. She is a young sensation and her photos are all over Pinterest and Instagram. She is often considered a favorite when it comes to natural makeup. Her super elegant, super skinny body and deep drowning eyes are loved by in fashion industry.
Daria Shiryaeva
She is popular as "Dashafiasco" name which is her Instagram name too. Daria Shiryaeva is from Russia, Lipetsk. She is also counted among super skinny models for her 23inches waist. In the modeling domain, she is also popular for her arm and back tattoos. She is also admired for her spicy booty. Short hair, bold eyes, and long neck are also loved by her social media followers.
Antonia Przedpelski
She came into the fashion limelight when she walked for designer Anthony Vaccarello. Her young hazel eyes and innocent-looking face attracted the fashion industry and now she is listed among top models. Her Instagram photos are simply Killing. Platinum blond hairs and 23inches waist size add more beauty to her looks. Antonia Przedpelski is a perfect blend of beauty, innocence, and confidence.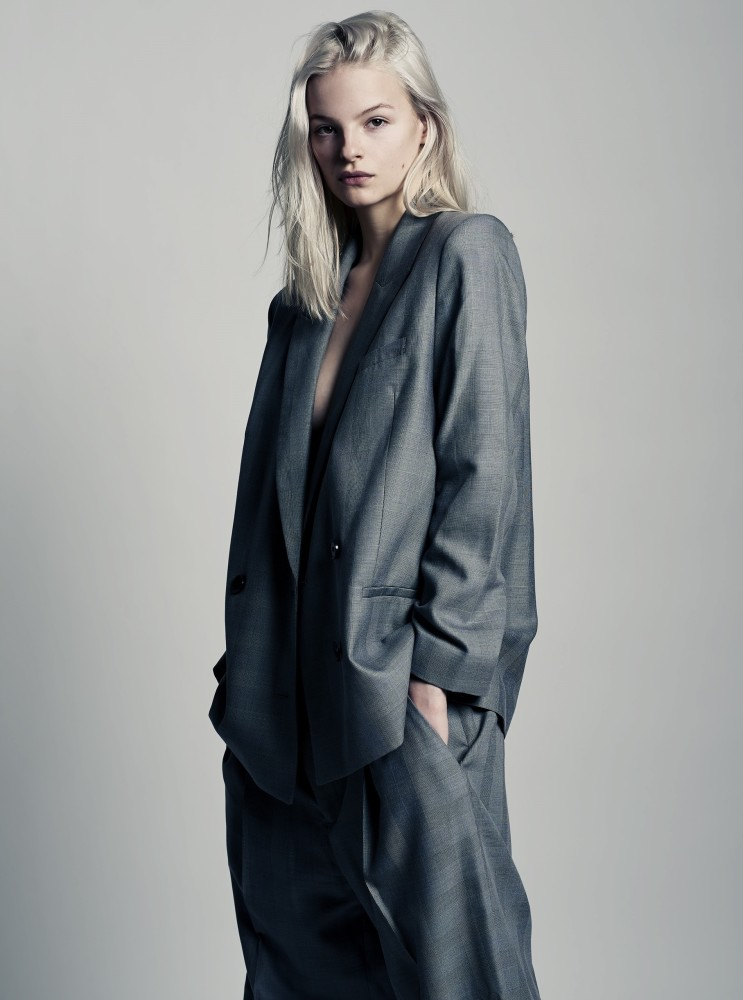 Stefani Monhort
Much information about Stefani Monhort is not present on the internet. All we know about her is that she is one of the rising names of too skinny Ukrainian models who started her career from social media. Her bikini pictures and casual poses are over the top.