After a visible change undergoing plastic surgery, Yodit Yemane underwent a significant body change. Critics against such body transformations were skeptical but fans and followers alike seem to simply adore the beautiful model's new look.
Fans may have spotted Yodit Yemane in Move To L. A. by Tyga, or they may have come across the sensational beauty in MTV's improvisational TV series Wild 'N Out. Either way, there is little debate against Yodit Yemane, who also goes by the name Jodie Joe, and her looks.
The Eritrean descent model showcases her beautiful body in various photographs which makes her fans go wild. The model has had an early start in her career but has also been in various TV shows and music features. 
Who is Yodit Yemane?
The American sensation Yodit Yemane is a television star, Instagram star and model. Gaining prominence from her photographs through social media, her hourglass figure had fans gasping for air. 
But her figure and her fuller lips have also been a part of the discussion since the model went through a significant change in her appearance. 
From a very young age, Yodit Yemane has been interested in modeling. This led her to enter the industry when she was in high school, tender age in any profession. 
Rise through Instagram
As is now apparent, social media has significant power over what gets famous and what trends, globally. It has the potential to transform industries and alter views and opinions. One such platform is Instagram.
Instagram has played a significant part in the modeling industry. A platform that has turned out to be rather profitable for aspiring models, they can use the exposure to start their careers and build their portfolios. 
They can also garner global expansion and reach. Yodit Yemane was one of those models who used the platform to her advantage. The young Eritrean model has gained a significant, massive and huge following on Instagram.
Utilizing Instagram
Yodit Yemane uses her modeling name Jodie Joe in many places. Her Instagram handle is @the_jodiejoe, and her account boasts a huge following of 1.2 million. She follows 578 pages and has created 321 posts.
An impressive stat for any young aspiring model, the 24-year-old model has gained traction which cannot be ignored. 
An Early Start for Yodit Yemane
Yodit Yemane was born on 23rd June 1997. The 24 years old beautiful model was born in the United States of America, in Boca Raton, Florida. Her descent is Eritrean, and the model had high aims from a young age. 
Like most aspiring models, she moved to Los Angeles to seek a career in the fashion industry.
Since high school, Yodit had dreams of becoming a model. She undertook various fashion gigs and rose through the early ranks of young models. 
She accomplished what she set out for too by becoming a model, a personality on TV and an Instagram influencer. She also has collaborated with various Fashion Nova and Pretty Little Thing, online stores for fashion.
Also making an appearance on the Nick Cannon hosted show Wild N Out, the model has a tiny waist with bulging complementary busts and lower. This has made her a viable choice in many fashion gigs.
Yodit Yemane Before and After
Although the model has not publicly claimed that she has undergone surgery, her looks are evident that she has indeed done so. Her figure which is quite popular is nigh possible to attain via natural means.
Her hourglass curves and full lips upon deeper examination clearly show external interference. Her current appearance showcases a perfect figure and is in line with what is achieved after surgery.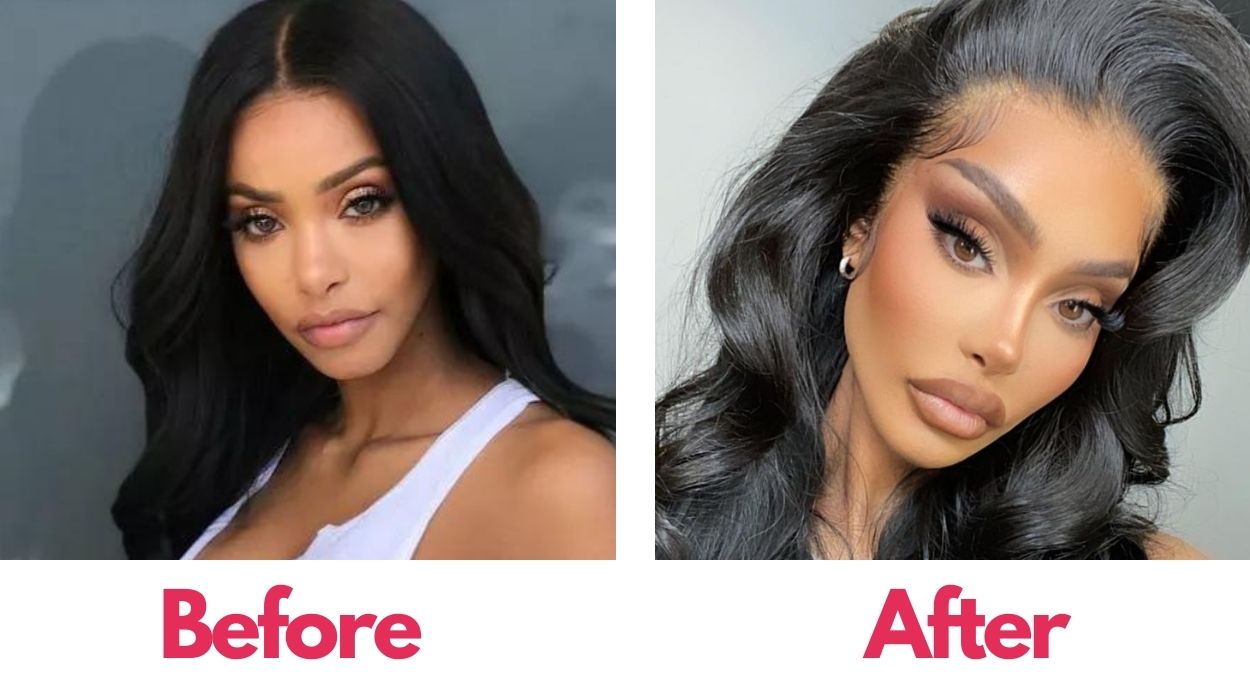 Yodit Yemane's Net Worth
The estimated net worth of the 24-year-old curvy Yodit Yemane is $700,000. Her main source of income is her modeling career, but she earns from other sources as well such as TV, etc. 
Despite her wealth, the model is seen to be enjoying a modest lifestyle. She is on a road to increasing her wealth as she is continuously endorsed by commercial deals. 
Her young age also can play a part and the model is all set to achieve more.
FashionNova and Yodit Yemane's Controversial 'Slave Contract'
People who are into fashion may know or would have shopped on FashionNova. On their website, Jodie Joe's name is a permanent nameplate. The hourglass-shaped beauty is seen modeling the site's popular items and has been with the brand for years.
Things took a drastic turn when the curvy Eritrean posted a message on social media which left fans hanging. Since the model has been with the brand for years, what exactly went wrong that had the influencer's stance against the brand.
Yodit Yemane clarified the situation by citing her contract with FashionNova as a "slave contract". She states the company hates her and models like her, and that she also has invested time and energy into the company.
This is not news as FashionNova has received backlash for its accusation of stealing designs on various occasions. Those designs were from Black designers and the accusations came to light when Knots and Vibes exposed the brand. (Read more about fashion nova models here)
Others followed such as Destiney Bleu and what probably brought mainstream attention to the brand was Kim Kardashian's stance against such brands.
"It's devastating to see these fashion companies rip off designs that have taken the blood, sweat and tears of true designers who have put their all into their own original ideas," said the model.
The mainstream commercial attention brought to such fashion brands who rip off designers underprivileged or lacking widespread reach were bashed by Kim Kardashian.
She posted a photo wearing a Mugler gown, which was seen being sold on the website as a replica dress within a day.
The Road Ahead for Yodit Yemane
The brand has not responded to the model's comments. Plenty has come to support the model as well. 
The model is set to appear in many commercials and endorsements and is going well. From a young high school graduate aspiring to be a good model to a full-fledged curvy beauty, Yodit Yemane or Jodie Joe are all set to influence and inspire other models to come.